Milan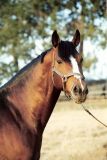 SIRE

Concorde

(KWPN)

Voltaire

Furioso II

Holland

(KWPN)

Gogo Moeve

Flyer

Marco Polo

Klaske

Cornelkia

(KWPN)

Nimmerdor

Farn

Ramonaa

Wotik

Wagram

Gotik

DAM

Montekin xx

(Thb)

Mount Hagan xx

Bold Bidder xx

Gusty Lady xx

(TB)

Moonmadness xx

Sweet Relations xx

Skymaster xx

Night Off xx

Windy City xx

(Thb)

Windjammer xx

Restless Wind xx

Crowding In xx

Mrs Sticky xx

Chamier xx

Cockles & Muscles
We currently stand one imported stallion, dutch bred Milan. Milan's sire, Holland, and grandsire, Concorde, are both known for producing a high percentage of jumpers. Milan has been used sparingly up until now, primarily due to use of Wachmann III, but his progeny first started in the arena in 2003 and are looking very promising with regard to both jumping and dressage. Milan was considered as one of the most promising showjumpers of his age before succumbing to several bouts of billiary and an injury.

His sire, Holland jumped very capably himself in international showjumping with Eddy Machen under the name FAN Holland. In breeding, Holland is without a doubt one of the most successful sons of Concorde, given the large number of good offspring found in national and international showjumping.

Concorde, ridden by Jos Lansink, was Dutch national champion showjumper as well as winner of the Nordhein Westfalen Prize in Aachen. In KWPN breeding, Concorde is one of the most prominent supplies of international showjumping horses, Viktor (McLain Ward) Audiís Jikke (Eric van der Vleuten) and Grace (Nona Garson) being the most famous examples.

Jumping genes are just as deeply anchored in the thoroughbred background of Milan, Mount Hagan has produced numerous fantastic sport horses, including super jumper, Ben Hagen., winner of the 2005 FEI competition and winner of Sappi Open Event. Mount Hagen goes back to Nearco, progenitor of top performers.
Milan competed briefly due to a problem with recurring billiary. His time in competition was sufficient for him to demonstrate scope, a good technique, carefulness and a sound temperament.
Milan has up until now been used sparingly due to the success of our foundation stallion Wachmann III. His progeny include: Pohlands Mulan Rouge (bred by Brad van der Riet) who won the 2009 SA Pony Riders Showjumping Championship and was a member of the 2008 SA PR team, Pohlands Miami (winner of Champion foal in hand) and Pohlands McKinley and Pohlands Madonna who are currently competing at 1.30m, and demonstrate scope, technique and potential for the top.